At the heart of any location based display system, either in the real world or in the virtual world is the display itself. The signage display is the primary means that the casual observer will become informed of the product or service being marketed.

The AdSoft system has a more complicated display scheme than a standard single surface bill board. A bill-board may have two sides, a front and back, but almost never has a left or right side display surface. The AdSoft system does by using what is called a "Display Prim". The display prim is a three-dimensional cubic or rectangular shape that has front/back and side/side display surfaces. This allows two separate graphics to be used with each advertisement.

The terminal is the base unit that performs all communication with Code4Software servers, retrieving ads to be displayed, and relaying impression/request activity back to the Code4Software database systems. Each terminal has a unique identifier, and is initially created within the database system, before it is deployed in the virtual world.

Crucial to tracking terminal activity is a system for uniquely identifying terminals. This is accomplished through the use of the AdSoft Web Application (AWA). The AWA is used to create a terminal definition record in the database, which then provides the unique Terminal ID.

Once the in-world terminal is initialized, it will then retrieve the correct network advertising queue (ad rotation) and transmit the impression and request activity such that it is correctly attributed to that terminal.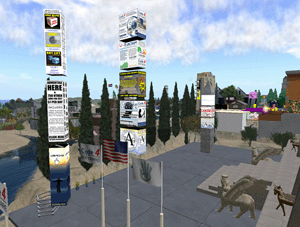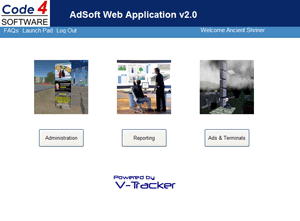 AdSoft is available for porting to your virtual world today. It is currently in version 2.0 and has been running on the Second Life Grid Platform for the past two years, and in its current version since December 2007. It currently processes over 75 million ad rotation transactions a month on top of recording upwards of 15 million impression minutes per month.

The technology is available for licensing to other virtual worlds with a 30-day turn around for porting in most circumstances.