No longer must you guess when trying to determine who's coming to your space, what they are doing, and when were they doing it. Powerful graphics based reporting allows you to quickly focus on areas of interest and gain immediate understanding into what's really going on at your site.

V-Tracker provides visiting avatar scanners, avatar event sensors (touch, pay, URL navigation), and public channel avatar attached chat loggers. All scanners, sensors, and loggers that have a similar stategic purpose or goal are grouped together by the Analyst into Campaigns. Campaigns can be utilized for long or short term projects. An example of a long term campaign could be monitoring all avatar traffic within a few Sim Regions for several months, to then perform an analysis of which features within the Sim Regions were most popular. A short term campaign could be to monitor the traffic, click though rate, and public chat for a product launch lasting just a few days.

V-Tracker is built on a scalable Microsoft based backend, and a high performance C# ASP.NET based web application used for administration, reporting, and analysis.

V-Tracker utilizes the most recent advances in high performance service oriented architecture offering a near-vertical scaling path. The final data repository is an SQL Server 2012 relational database, so the data can be exported easily into a variety of formats, using automation as appropriate.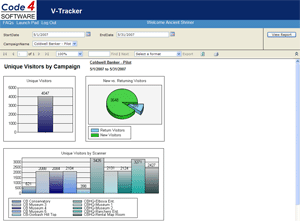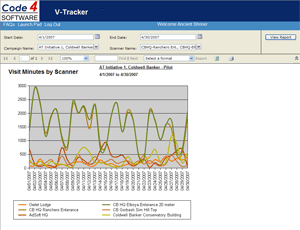 V-Tracker is available today in version 2.0. It has been through many 'trials-by-fire' and was used for the launch of Coldwell Banker Realestate Corporation into Second Life, various IBM initiatives, and the main Virtual World presence for the U.S. Army. The technology has been further refined and is easy to use, quick to set up, stable, and proven.

When your brand is at stake, don't be someone else's test subject, use a system that's tried and tested like V-Tracker.